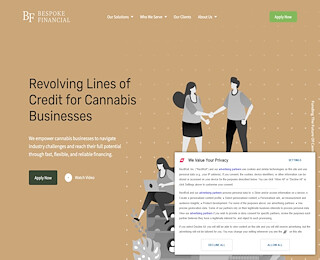 Cannabis businesses have long struggled to get bank services since marijuana operates in a gray area – legal in Oregon and much of the country but illegal under federal law.
Banking for Cannabis Business
The cannabis industry in Oregon has been growing since they legalized it for recreational use in 2014. That growth, however, has faced an enormous challenge in that many Oregon banks do not allow banking services to marijuana businesses. The result has been that those businesses have had to handle all their funds with cash.
Can Dispensaries In Oregon Use Banks?
At first, options for small businesses were limited and cumbersome. Thankfully though, things are changing rapidly. Oregon has implemented a new law allowing canna-businesses to get business accounts with cannabis-friendly banks or credit unions.
Here's How to Get Cannabis Business Accounts 
The Application Process
Doing business in cannabis is subject to many restrictions, so many banks demand a lot of documentation before considering an application. Besides the standard banking legal agreements, your bank may require the following documents if you sell, process, or cultivate marijuana:
·         Details of company ownership and information about its owners
·         Regulatory compliance documentation
·         Licensing and permit information by state, county, and city
·         Deposit or validation information
Comply With Regulations and Meet Requirements
You must comply with regulatory legislation, including:
·         Bank Secrecy Act (BSA). As part of the BSA, banks should notify the federal government of suspected illegal activities, including those related to cannabis businesses. Even businesses operating legally in their states must file Suspicious Activity Reports.
With the help of financial intelligence, FinCEN protects the U.S. financial system against illicit use and combats money laundering.
·         Cole memo. A memorandum titled the Cole Memo describes the priorities for federal prosecutors operating in states where medical marijuana or adult-use marijuana is legalized. Financial institutions must file Suspicious Activity Reports upon transacting with cannabis businesses as outlined in the document.
·         Anti-Money Laundering (AML). AML detects and reports suspicious activities by companies related to money laundering and terrorist financing.
·         Know Your Customer (KYC). The purpose of KYC guidelines is to prevent banks from being used for money laundering by criminal elements.
Establish a Cash Management Supply Chain
In the United States, credit card companies won't let cannabis businesses accept PIN-debit or credit card payments, so you need to set up a cash management supply chain.
The most efficient way to accomplish this is to define documented procedures that comply with county, city, and state regulations. You will need to find secure vendors to help you process, deposit, and vault your cash.
Tax Compliance
For federal tax purposes, cannabis businesses must file the following forms:
940, Employer's Annual Federal Unemployment Tax Return
941, Employer's Quarterly Federal Tax Return
1120-W, Estimated Tax for Corporations
1120, U.S. Corporation Income Tax Return
Continuing Compliance Training 
Regulatory bodies will routinely review cannabis businesses, so your business should go the extra mile to stay on top of compliance training and due diligence.
Oregon Cannabis Banking 
Oregon has a strict regulatory system for recreational cannabis businesses. Businesses need to pay attention to the laws regarding banking, payrolls, and other transactions involving their money. For more information on cannabis banking, please contact Bespoke Financial at 323-508-1280 or email sales@bespokefinancial.com.
Bespoke Financial
(323) 508-1280‬
730 Arizona Ave
Santa Monica CA 90401 US