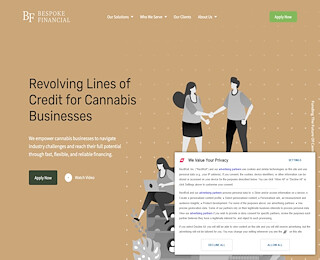 Bespoke Financial is your one-stop source for cannabis dispensary loans. Whether you're just planning to open a new dispensary or need a line of credit for an up-and-running business, you'll find that we have the ideal loan option for your situation. Get in touch with us today to learn more about our solutions or review our Web resources to discover how easy it is to apply for cannabis dispensary financing in Los Angeles; reach us by phone at 213-262-8330.
4 Ways We Can help Your Cannabis Business Grow
1. Cannabis business loans don't all look alike; at Bespoke Financial, we want to work closely with you to find the right lending solution to help you succeed in your business venture. We've found that a Line of Credit is a great choice for business owners needing flexible financing for various expenditures throughout the year. With a Line of Credit, you're free to draw down capital as you see fit, reducing the likelihood that you'll miss out on a buying opportunity.
2. We think the best Los Angeles cannabis business loan company should make it easy for their clients to get set up with the right sized inventory to meet the needs of customers without having to grow their business slowly over time. With Bespoke Financial, you can increase your purchasing power with an inventory loan that operates in a unique fashion. Your vendors are paid directly by our agency once you're approved for inventory financing.
3. During seasons of increased demand, you can fulfill orders with Purchase Money Financing through Bespoke Financial. We'll advance you 100% of your purchase of raw materials needed to fulfill orders on time, so you can keep growing without worrying about cash flow. Purchase Money Financing is one of the easiest marijuana business funding options available today.
4. With Invoice Financing from our company, you won't have to wait the typical 30 days to collect on an invoice. We'll advance your dispensary up to 75% of invoices to ensure a steady stream of capital at your disposal. Speak with someone from our agency today about cannabis dispensary loans and CannaBusiness financing in LA to help you stay competitive in what is considered a very tough market for success. We're here to help when you need funding, and we have numerous options available to you.
Get to Know Our Team at Bespoke Financial
Spend some time on our website reviewing company information, loan options, and information about our firm when you're looking into cannabis dispensary loans. Follow us on social media to engage in conversation and communication with our staff and our clients. When you're ready to find out more about applying for a line of credit or loan, we welcome your phone call at 213-262-8330.
Don't wait to contact Bespoke Financial- the sooner you make the call the sooner you'll have the capital necessary to grow a successful cannabis business and meet the needs of your online or Web store customers.
Bespoke Financial
(323) 508-1280‬
730 Arizona Ave
Santa Monica CA 90401 US