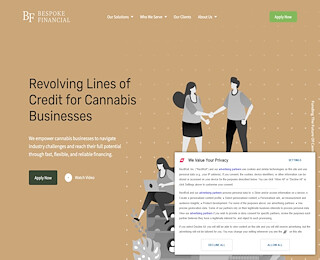 It is challenging to finance a startup business, especially when it falls on the grey areas of the state laws. The marijuana business has complicated rules that make it impossible for starters to acquire loans. More so, established marijuana business owners could not get loans from banks and other major loaning institutions. There are select options allowing businesses to get CannaBusiness financing. You should be smart about where to look if your prospects do not pan out.
Why do banks deny marijuana loans?
Banks cannot provide funding because of the associated complications with Federal Deposit Insurance Corporation. The FDIC will not cover a bank that funds business with possible legal risks. The Department of Justice is apt to observe the federal law in case of instability on the political climate.
Where can you get cannabis financing?
Private investors have taken the slack of backing marijuana businesses because they realize the potential of the company. The most common private lenders include:
Angel investors
Private equity funds
Venture capital
Marijuana consulting firms
How to private lenders work?
Non-bank lenders are the most sought after because they have the most flexible marijuana business funding. It is essential to research the requirements of each lender before applying for the loan. An example is that some alternative lenders will fund the production of certain products, such as edibles, vape cartridges, concentrates, and other similar products. Make sure your preferred lender specializes in your business niche.
What do you need to acquire a Marijuana business loan?
Businesses seeking a weed business loan usually have the following traits:
A legal business license to sell marijuana products
A business banking account
A specific timeframe of operating in the industry
Monthly gross income of a particular bracket
A credit score limit
Why should you get cannabis financing from Bespoke Financial?
We are a public operating financing company that invests in marijuana businesses. We may take ownership of shares in a couple of operations in exchange for funding. We allow our clients to retain full control of their business while we oversee the agreed service. We continue to adapt to changes in the industry, as laws change across the federal and state laws.
We provide cannabis financing to businesses in Colorado, Washington, California, and Oregon. Our target of clients includes distributors, cultivators, and manufacturers. This setting allows us to cast a wide net on the number of entrepreneurs we can support with dispensary loans.
Do you need merchant services?
Marijuana businesses should deposit money and write checks to staff and partners. Some people use their traditional bank accounts while concealing the nature of the service. In contrast, others use third-party services like debit cards and related merchant services, to process mundane payments. Do not risk an illegal merchant processing option before learning the entirety of our marijuana processing. We have legal processing systems and will keep your business within the confinements of the law for long-term success.
Are you interested in getting legal unds for cannabis business for CBD, hemp, or cannabis? We have a professional team that will process your online application and answers consultation queries on mail.
Bespoke Financial
(323) 508-1280‬
730 Arizona Ave
Santa Monica CA 90401 US