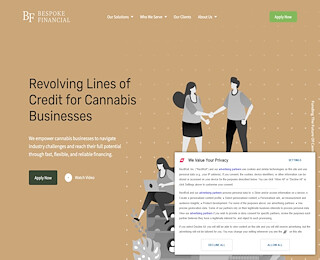 Due to the global pandemic, the current economic downturn hit hard on all parts of the massive cannabis supply chain. With a sudden drop in demand and consequently less revenue leading to, in some cases, an increase in layoffs. Cannabis businesses rely on quick access to working capital for daily operations via short-term cannabis business loans to survive these liquidity issues. However, when it comes to marijuana industry financing, there is little to no support from the federal government or banks to cover monthly expenses. Therefore, cannabis lenders play a vital role in the industry to stay alive. This time we will focus on Bespoke Financial. A licensed cannabis lender, specializing in cannabis business lending.  
Why Bespoke Financial?
Founded in 2018, Bespoke Financial is the first licensed commercial lender solely focused on cannabis financing. With a passionate team that combines years of experience in lending, technology, and different areas of the cannabis and financial sector, Bespoke Financial has positioned itself to be the prime short term cannabis lending platform in Los Angeles. Bespoke has been featured in Built and Bootcamps Los Angeles 50s startups to watch for 2020. It offers different services to tighten up your cash-flow cycle such as inventory financing, cannabis equipment financing, PO (purchase order) financing, and invoicing depending on your balance sheet's section needs to be improved.
Reasons to choose Bespoke Financial
Access to Debt
The biggest hurdle for the growth of the cannabis industry is access to debt. Even if it is legal to operate a cannabis-related business in your state, it is still illegal at the federal level. It is because of the legal status of cannabis that accesses for funding through traditional institutions like credit unions, and commercial banks are almost impossible. The same goes for coronavirus relief funds, in moments like this, when we see the importance of firms like Bespoke Financial to provide liquidity in the cannabis industry and support small businesses during times of crisis.    
"By providing working capital, Bespoke plays an essential and valuable role for small cannabis businesses to mature their brands." 
Get financed without losing Equity.
There are two ways of getting funding: Debt or Equity. Debt funding involves getting a short term loan and paying interest on it. Equity funding, on the other hand, provides you with capital by issuing shares of your company. Bespoke Financial's model provides you with financing without diluting yourself or relinquishing control of your cannabis business. 
Competitive Rates
Bespoke lines of credit range from $100 thousand to $5 million, and typical fees are 3-4%. At Bespoke, there are no application fees and no additional fees. 
Invoice Financing 
When your business waits for 60 to 90 days to receive cash for invoices, it can hurt your ability to scale up and grow as a business. To reduce this gap, Bespoke will give you 80% of the receivable amount and then the remaining 20% once the client pays minus the accrued fees of around 2.5% to 3.5%.
Inventory Financing 
Inventory Financing helps you get, for instance, the raw materials for your farm or your supplies at your dispensary and stay on top of regulations or trends for your brand.  Once approved, you can submit your invoices to Bespoke Financial, and then we pay the vendors for you. By doing this, you will have the necessary time to sell your cannabis products and then pay Bespoke with the accrued fees. 
Once you have your cannabis financials ready, don't hesitate to contact us or apply now to Bespoke Financial if you are interested in business loans for a cannabis business: https://bespokefinancial.com/apply-now/.
Bespoke Financial
(323) 508-1280‬
730 Arizona Ave
Santa Monica CA 90401 US