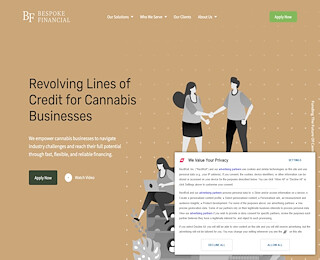 Clients frequently ask, "How do I get a loan for cannabis business?" Or "Do I qualify for a cannabis business loan? "Well, it is pretty challenging for cannabis business operators to find the funding they require. The cannabis business is a touchy subject; despite the continued legalization and decriminalizing of cannabis for recreational and adult use, financial institutions are still reluctant to work with these small businesses.
There is plenty of growth and opportunity in the cannabis industry. Entrepreneurs are ecstatic to get involved and with the proper financial backing, being successful is just a step away. The traditional lender may not offer you the help you need, but several options for cannabis business funding are available. In this article, we highlight available funding options for the cannabis business.
Qualifying For a Business Loan
Before applying for a Massachusetts cannabis business loan, it is essential to know what to expect. Traditional options for financing small enterprises are not available to cannabis business owners due to the federal regulation that makes funding for borrowers and lenders challenging. A cannabis business can get loans even if the business owner has bad credit. Business cash Advance is an option for people with poor credit. Asset-Based Financing is another option though it may be challenging to get it with bad credit. You may have to speak to the lender directly to see if it will work for you.
Invoice financing is one of the best business loans options since it does not account for business credit. If the business invoices clients regularly, this is a good option. What makes Business Cash Advance appealing is that it accepts bad credit. Your terms depend on your credit. Bearing this in mind, you can determine the option that works well for you as per your credit.
If you are a startup in the cannabis business, getting a loan might be tricky. To get a business loan, your business needs a record of receivables or sales, so it probably has none if it is a startup. Prior company ownership experience is not enough to get you funding for the marijuana business; you need operations data. If you have a cannabis startup, it is essential to find other sources of funding for the capital you need.
Bank and Commercial lenders
Commercial lenders can help in financing your cannabis business. The option, however, is new in the industry and might be challenging to find a commercial lender. There are cannabis business consultants who have experience in the financial aspects of cannabis operations. Such consultants know where to get commercial cannabis lenders. They are the ideal resource for marijuana business owners looking to increase their profits and find funding through their connections in the industry.
Private Loans
Private loans for cannabis companies come from non-bank lenders. The rates range from 8 to 25 percent, and the lending terms span from a year to three years. Within a week or two, the funds are available. The lenders offer long-term business loans to manufacturers and growers of cannabis products instead of dispensaries. If a dispensary has proven revenue, private loans can be an option.
Bespoke Financial offers great financing for cannabis businesses with low-interest rates. Please call us at 323-508-1280 or email sales@bespokefinancial.com to learn more about our cannabis loans.
Bespoke Financial
(323) 508-1280‬
730 Arizona Ave
Santa Monica CA 90401 US