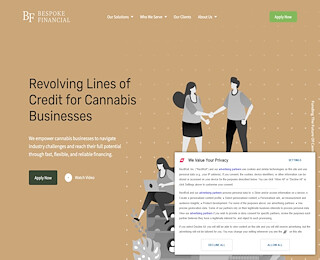 Cannabidiol or CBD is one of the natural compounds extracted from cannabis plants. It is usually turned into oil and consumed via edibles, sprays, and tinctures. Because of the global pandemic and the glooming economic outlook, now more than ever, there has been a boom of demand for CBD products and its anxiety-reducing properties.
As a result, many entrepreneurs see CBD's business potential, and there has been an increase in the need for cannabis business loans for cannabis-related startups. There are different types of funding, short term loans, debt or equity funding, real estate loans, cash in advance, Cannabis equipment financing, just to mention a few. This time we will focus on How do short terms loans work? See if these are ideal for you, and if this is the case, contact one of the leading cannabis lending firms, Bespoke Financial and apply for your cannabis funding today.
Short Term Financing for Cannabis Businesses
Short term loans, also known as "gap financing" or "bridge loans," are loans that a company might use while waiting for other more permanent financing methods. Basically, at higher interest rates, short term loans allow cannabis businesses to pay their obligation immediately. That way, you can pay your monthly rent, utilities, cover your CBD production costs, and operating expenses without running low on cash flow.
There are two primary financing options for CBD businesses debt and equity funding. Debt funding is in simple terms, asking for a loan and repaying it with interest. Equity funding, on the other hand, the owner offers a percentage of the CBD business in the form of shares to the lender. The lender will then receive the loan amount in dividends or from the proceeds of the sale. Bespoke Financial focuses on debt financing. That way, small businesses won't relinquish control.
Who is ideal for applying for cannabis financing
Since 2018, Bespoke Financial has been working with CBD, hemp, and cannabis businesses in California, Colorado, Oregon, and Washington. Based on your state and local laws and your legal status for operations, we will help you do your due diligence and comply with the law.
Some things to consider are your credit report and collateral to back up your loan. Having a credit score of 700, showing timely payments, and no bankruptcies is ideal. On the other hand, in the case of having a lower credit score, providing collateral is not required, but it will help you get approval.
How does it work?
Start by having all your recent financial records: balance sheets, income, bank statements, credit risk profiles, and capital needs.
Have your active operating licenses up to date.
Apply with us online here
Get approved within one week after you complete your application.
With flexible lending, you can borrow funds as needed to reduce your cash flow cycle up to 50%
Scale-up and increase your line of credit with Bespoke Financial and allocate equity capital into long term projects.
Now that you have your cannabis financials in order and you are ready to take the next step. Contact us or apply directly to Bespoke Financial if you are interested in business loans for a cannabis business: https://bespokefinancial.com/apply-now/
Bespoke Financial
(323) 508-1280‬
730 Arizona Ave
Santa Monica CA 90401 US