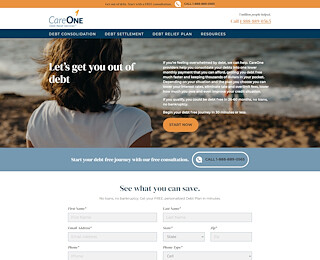 At CareOne, we offer debt settlement, debt consolidation, and debt relief programs for people who want to change their financial lives for the good. However, we receive calls from hundreds of people with questions regarding debt settlement programs. On this page, we've decided to put together some of the commonly asked questions about debt settlement. 
If you can't see your question here, please don't hesitate to call us at 1-888-889-0565. Our customer care representative will be happy to answer any questions that you might have. 
How Does Debt Settlement Program Works?
Debt settlement is a relief program that involves negotiating with your creditors to secure a repayment that amounts to the balance owed or less than the amount owed on your unsecured debt accounts. (Unsecured personal debt is not attached to a specific item that the creditor could repossess.) Debt settlement provides a faster means of managing your debt by negotiating the balance. 
What Type Of Debt Can Be Negotiated?
You can negotiate almost all types of unsecured debt. Store cards, credit card debt, medical bills, signature loans, and unsecured lines of credit are some of the types of debt that can be included in a debt settlement program. 
When Will You Start Negotiating My Debts?
We'll notify your creditors and begin the process once you enroll in our debt settlement program. We'll resolve your debt as funds and become available through your savings plan.
Will Debt Settlement Stop The Creditor From Calling Me?
We can't promise to eliminate all debt collection calls, but we can offer you support and expertise to help counteract potential debt collection harassment. We advise our clients on ways to deal with creditor calls as part of our debt settlement programs.
How Long Will The Debt Settlement Program Last?
This depends on how much debt you are owing and the amount you can save monthly. At CareOne, we offer debt settlement programs that can fit within any budget and eliminate your debt within 12 to 18 months. 
Can I Get Out Of Debt Quickly If Extra Funds Become Available?
Yes. You can get out of debt quicker than anticipated after securing enough funds for negotiation. There are no penalties or fines for getting out of debt early. 
Is My Credit Score Affected During Debt Settlement?
Yes. Your credit score is going to decline during the program. Therefore, we don't advise you to apply for a new card while going through a debt settlement program.
Will I Be Able To Use My Cards During Debt Settlement?
You will not be able to use the credit cards you enroll in for the debt settlement program. Therefore, we advise clients to keep one card (preferably one with the least balance) outside the debt settlement program.
Are There Debts That Cannot Be Included In A Debt Settlement Program?
Yes. Secured debts cannot be included in this program. This includes home loans, mortgages, auto loans, equity lines of credit, and financing contracts tied to a property that the creditor could repossess.