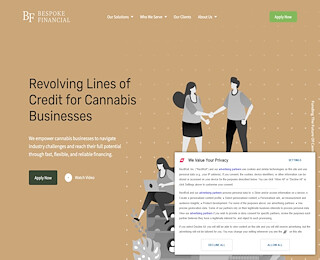 The Cannabis industry is a billion-dollar industry that is fast growing. The sector has legal farmers, producers, consumers, independent standard bodies, and ancillary products and services. Running a cannabis business is costly, and getting a Massachusetts Cannabis business loan to grow the business can be tricky. It stems down to the fact that the cannabis industry is considered an illegal small business on the federal level. In most cases, traditional banks and other lenders operate on federal banking laws, making funding cannabis business difficult.
So if you are asking, "how do I get a business loan for cannabis business?" The Good news is there are alternative business lenders and funding options
Types of Cannabis Business Loans
Business cash advances offer a fixed lump sum of money at a discounted price. The advance is paid by taking a fixed percentage of prospective overall sales. Fixed daily payments are collected weekly or daily by deducting from the business bank account. At the end of every month, an evaluation is done on the payments received versus the monthly sales deposits.
If the fixed payments exceed the set future percentage of sales deposits, a refund to the merchant gets done. Repayment continues under the monthly process until the amount is paid back in full. The time frame of refund depends on the volume of the future sales. Payment expectations are usually short-term but may be extended depending on the future overall sales.
Traditional financing may be cheaper, but cannabis business owners do not qualify for it. As cannabis loan lenders, our business cash advance offers a great alternative to access capital when the bank refuses. We have no limitations for using the money, and you can utilize it for various purposes.
Commercial Real estate Equity Financing
We also offer long-term loans for businesses based on commercial real estate as collateral. If you have high equity in real estate, you can use it to get financing for your enterprise. It is ideal for business owners to secure funding through their real estate.
Invoice Financing
Our invoice financing advances the outstanding balance to business owners to increase the cannabis company cash flow. The solution gives cash quickly with no need to wait for the client's due invoice to be collected and received. Our invoice financing is affordable and ranges from one to 2.5% fee off the face value of the advanced invoice.
Purchase Order Financing
Through our purchase order financing, we give the business the ability to raise capital to pay the suppliers upfront for verified purchase orders. We finance an entire order or part of it, depending on the funder. When the supplier wants to ship the order, our company collects payment directly from the client. As a funder, we will deduct our fees and send the invoice balance to your business. Purchase order financing is more of an advance instead of a loan.
Applying For Funding
We offer an easy cannabis business funding experience that addresses any questions you have. Our clients love the quick, streamlined process and the high approval rates because of the options available when collaborating with us. Applying for a loan is a simple three-step process. Fill out the online form, wait for the approval and get your money.
Please contact Bespoke Financial at 323-508-1280 or send us an email at sales@bespokefinancial.com to help you finance your marijuana business.
Bespoke Financial
(323) 508-1280‬
730 Arizona Ave
Santa Monica CA 90401 US